Sorint.tek joins NVIDIA Metropolis to optimize business processes with vision AI
Bergamo, Italy, 21 December 2022 – Sorint.tek today announced it has joined NVIDIA Metropolis, a partner program focused on bringing to market a new generation of vision AI applications. The program nurtures a rich ecosystem and offers powerful developer tools to supercharge vision AI applications that are designed to make the world's most important spaces and operations safer and more efficient.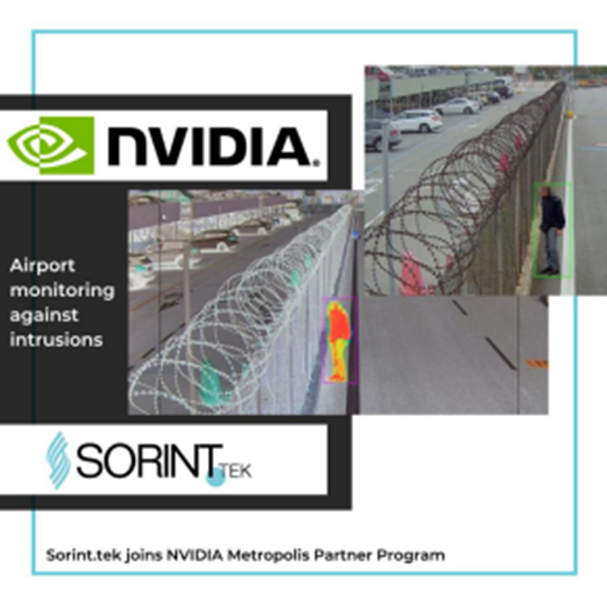 By using the NVIDIA DeepStream software development kit, part of the NVIDIA Metropolis suite, Sorint.tek enables the Milan Bergamo Airport, the third largest Italian airport for passenger volume, to confidently monitor its 13-kilometer perimeter against intrusions. The NVIDIA DeepStream SDK allows scaling efficiently the number of real-time video streams that can be processed at once and the number of deep learning models that can be used to detect different subjects and behaviors.
NVIDIA Metropolis makes it easier and more cost-effective for enterprises, governments, and integration partners to use world-class AI-enabled solutions to improve critical operational efficiency and safety problems. The Metropolis ecosystem contains a large and growing breadth of members who are investing in the most advanced AI techniques, most efficient deployment platforms, and use an enterprise-class approach to their solutions. Members have the opportunity to gain early access to NVIDIA platform updates to further enhance and accelerate their AI application development efforts. Further, the program offers the opportunity for members to collaborate with industry-leading experts and other AI-driven organizations.
"We are confident that, thanks to NVIDIA Metropolis, we will be able to further speed up our development cycle and help our customers use state-of-the-art models for their ever-growing current and future needs to ensure reliable airport operations," said Gianluca Gerard, CTO of Sorint.tek. "Moreover, the NVIDIA DeepStream SDK, part of the Metropolis framework, has been a key component for us to move our AI and computer vision models into production quickly and reliably. DeepStream takes away the complexity of integrating our models with the vast infrastructure that is necessary to ingest and process in real time the video streams of hundreds of cameras. With DeepStream, data scientists are free to spend their time optimizing the accuracy of the models, being certain that they will be able to quickly deploy new and better models into production."
About Sorint.tek
Sorint.TEK is the advanced analytics and IoT business unit of Sorint.Lab Group, a leader in advanced technology consulting.
We build, manage and support end-to-end data-driven strategies for partners and clients, from the design and implementation of Big Data and Fast Data architectures, to the development of artificial intelligence and automation solutions, to the representation of information for business decision support.
During our growth, we have gained several experiences in developing big data analytics platforms and/or components, both on Hadoop ecosystems and with other frameworks, aimed at processing and integrating the same data according to different criteria and levels of complexity: from regular reporting to the most advanced machine learning and deep learning techniques.